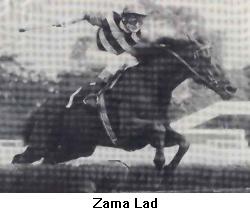 The most legendary name in the winners list of the Harry D Young (Yalumba) Hurdle is the chestnut gelding Zama Lad. Foaled in 1975 he is by champion sire Zamazaan from the Agricola mare Farm Lass and was bred to be a champion stayer. His older half brother was Bottled Sunshine the winner of the 1974 QTC Derby and the 1975 WA Derby. Trained by Tony Selfe at Morphettville, Zama Lad showed promise as a younger horse winning the 1979 Rain Lover Plate (then known as the Simsmetal Plate) over 2250m from Runaway Bride. However it was as a jumper Zama Lad made his name. Racing in the summer of 1982 Zama Lad won the Milano Hurdle over 2600m at Morphettville by four lengths from Wind Power. Within eight days he backed up at Cheltenham to win the Burke Hurdle over 2850m by six lengths with Wind Power again in the runners up stall. Zama Lad then had two runs in Melbourne for a third behind Manacrest and a fifth behind Never Beheaded. Back in Adelaide Zama Lad was unplaced on the flat before running third behind The Looter and Hiroshi in the Orly Hurdle over 2600m at Morphettville. Two more flat runs prepared Zama Lad for his first attempt to win the Harry D Young Hurdle at Oakbank in April 1982. Carrying 60kg and ridden by AP Ware Zama Lad cruised away from the opposition to win by eight lengths from Daramulun with John's Harvest third. He was then well beaten in the Birthday Cup and missed racing for the rest of the year.

As a seven-year-old he resumed on the flat in late February 1983 finishing well back. Despite another unplaced run Zama Lad then went to Port Lincoln for the Cup over 1900m. Ridden by P Cook he was fifth of the 14 runners behind Red Du Jour. Back to Morphettville Zama Lad started to regain fitness and was 4th over 2000m. It was then to Oakbank where on the Saturday he was sixth, beaten little over three lengths in a Welter over 2000m, before his second attempt to win the Harry D Young Hurdle a feat not seen since New Delhi's victory in 1961 and never done in successive years. Despite striking early interference and being checked with 1600m left Zama Lad again showed his affinity with the Oakbank circuit to win by 2 ½ lengths from Old Fox with Blue Otway a further 2 ½ lengths away third. Zama Lad then went to Melbourne but fell in the Jacana Hurdle over 3000m as 2/1 favourite. A week later he was third behind The Ranger in record time in the DS McCormick Hurdle. Zama Lad then headed to the Hellenic Hurdle at Flemington in early May with a new rider Nick Harnett. As 5/4 favourite Zama Lad raced to victory by three lengths from Peter's Charm with Skyros third, four lengths away. Back to Adelaide Zama Lad was third beaten a neck by a long neck at Victoria Park over 2000m by Fast Tumble and Padigambol. A week later it was back to the Hurdles where Zama Lad was a close second to Loch Runour in the June Hurdle. A further week later he was back in Melbourne in the Toolambool Hurdle at Sandown. Carrying 68.5kg Zama Lad was too good winning by five lengths from Nicklebe with seven lengths to Shadru third. The following week he then won the Ardoch Handicap on the flat over 2600m from Pretty Toy before again backing up in the Grand National Hurdle at Flemington. With 65kg Zama Lad reunited with AP Ware raced to victory by 2 ½ lengths to Junior's Boy with 25 lengths back to Deschanel in third place. Zama Lad then ran sixth on the flat at Moonee Valley before heading for a spell. Zama Lad had raced on every Saturday from 4th June to his victory in the Grand National on 2 July.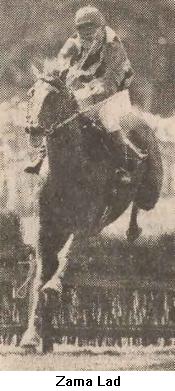 Resuming at Morphettville on March 10, 1994, Zama Lad was unplaced at his first three runs before returning to the jumps for the Justification Hurdle at his home track. Carrying 73kg Zama Lad finished third behind Shadru (63.5kg) and High Talent (62kg). Again he headed for Oakbank to try and win his third successive feature Hurdle. Sixth in the 2000m Welter on the Saturday Zama Lad was given the impost of 68.5kg in taking on a field of eight in the Harry D Young Hurdle two days later. In a tight finish the combination of Zama Lad and AP Ware prevailed winning by a neck from Hutch with Smalltime Gambler third. Unplaced in the West End Stakes Zama Lad headed to the Grand National at Murray Bridge three days later. Carrying 73kg Zama Lad won by 1 ¾ lengths from Forever Hunting (61.5kg) and Moravian (63.5kg). Then it was back to Melbourne for the winter jumping series. Well beaten behind River D'Or (once a rival of Kingston Town in his early racedays in Sydney) in the Australian Hurdle. Zama Lad was then sixth in the LV Lachal Hurdle again won by River D'Or. Unplaced in the Toolambool Hurdle at Caulfield Zama Lad again lined up to defend his title in the Grand National Hurdle at Flemington. Zama Lad fell as his stablemate Zamenhof raced on to a 12 length victory. Heading back to Adelaide Zama Lad was sixth in the Bold King Hurdle before returning to form was a six length victory in the South Australian Grand National Hurdle at Victoria Park where he carried 69kg to defeat Malle Bronze with Sir Agrifo third. Zama Lad then heading to the spelling paddocks for the warmer months.
Zama Lad returned to racing with several unplaced runs before running third on a heavy track at Morphettville in the Family of Man Handicap over 2450m behind Lochurst. He then took on stablemate Zamenhof in the Old Fox Hurdle at Cheltenham but Zamenhof went on to win by seven lengths with Rainbird Lover 1 ½ lengths away third. It was then to Oakbank where Zama Lad was trying to emulate Doiran in winning a feature jumping event four times. After running well back in the Welter on Saturday Zama Lad was sent out the 18/10 favourite despite Zamenhof also being in the field and receiving a four kilo weight advantage. Burdened with 69.5kg Zama Lad made his final charge down the straight where Zamenhof was in front. Over the last fence Zama Lad had taken the lead as Zamenhof stumbled after momentarily getting a hind leg caught in the brush fence with Sandbagger finishing strongly between them. In the run to the line it was between Zama Lad and Sandbagger but the champ conceding 9.5kg to Sandbagger was too strong winning by a half length with three lengths back to Zamenhof in third place. Soon after the record breaking victory Zama Lad was retired with a record of 101 starts for 18 wins and 14 placings. Instead of retiring to a paddock Zama Lad found a new career as a clerk of the course on Adelaide racecourses and continued through the rest of the 1980s in that job leading winning horses, including the champion Rubiton in his first start.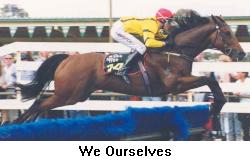 Last year's winner Preludes isn't among the nominations for this years race nor is the 1999 and 2000 winner We Ourselves who is the only horse since Zama Lad to win the race now known as the Yalumba Hurdle more than once. A group of talented jumpers are entered though and there is every chance the winner may come back next year and make his own mark on the race.