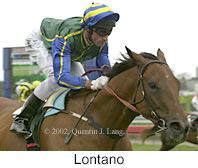 Prominent Victorian breeder Bob Scarborough has made a perfect start to February after his exciting four-year-old gelding Lontano won today's $75,000 listed Kensington Stakes at Flemington.

Scarborough, the man behind Wood Nook Farm, has some well bred yearlings on offer in both Melbourne and Adelaide over the next couple of weeks.

Included in his local draft at the William Inglis Premier Yearling Sale in Melbourne is the half brother to Lontano by former brilliant speedster Gold Ace.

A week later Scarborough will be heading to Adelaide where the Wood Nook banner will be offering nine yearlings.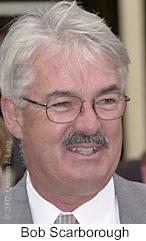 Today however the yearling sales were the last thing on his mind as he and wife cheered home the David Hall trained Lontano to a listed race win.
Tarare, the dam of Lontano, has got every possible chance of producing another galloper as good as Lontano after visiting some of the country's most exciting stallions in the past two seasons.
"She's just produced a colt by Gilded Time and she is now in foal to Belong to Me," Scarborough said this afternoon.
Scarborough also revealed there was a strong chance of him looking at breeding a full relation to the gelding in a year's time.
"I'm looking at sending her (Tarare) to Danehill again," he said.
"With him standing for so much money it can be a bit risky but with Lontarno racing so well I will now probably look as heading to Danehill," Scarborough added.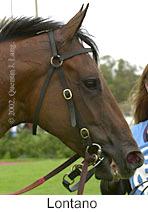 Not only has it been a big start to February for Scarborough, but the winning run started around the New Year period when one of his youngsters scored a Group One win across the Tasman.
Leica Guv, a three-year-old by Chequers Stud based stallion Deputy Governor, scored a great win in the Group One Mercedes New Zealand Derby.
Any potential buyers taken by the success of Lontarno in today's Kensington Stakes are sure to be attracted by one of Wood Nook's offerings at next weekend's Melbourne Sale. A colt by Gold Ace from Tarare will go under the hammer.
PICS - Quentin Lang.