Eliza Park's continuing rise to prominence in the Australian breeding scene took another step during the week when they provided the sales topping yearling at the William Inglis 2002 Premier Yearling Sale in Melbourne.
The grey filly by Desert Sun from the top producer Song of Norway was always destined to be a star from the time she was born in September 2000.
A half sister to the classy stakeswinners Scandinavia, Midnight Sun, Frosty the Snowman and Russian Tea Room, the filly was sold for $175,000 shortly after being passed in for $145,000 in the ring.
Eliza Park's Lee Fleming said the sale was a great result for Desert Sun, one of the resident stallions at the stud's Kerrie base in Victoria, and he was pleased that Sydney based owner Frank Tagg was the buyer.
"I've been dealing with Frank for a number of years and he's been a good client of the stud," Fleming said.
Tagg has raced a number of top performers including the former glamour race mare Circles of Gold. Tagg is also keen on breeding. Circles of Gold has visited Danehill three times.
There's plenty of excitement for future members of the family, with a full brother to the sales topper set to be the next member of the illustrious family to go through the ring.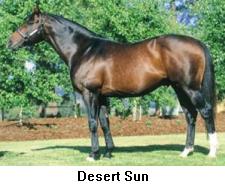 "Song of Norway currently has a Desert Sun colt on the ground and is presently in foal to Festival Hall," Fleming added.
Festival Hall, another stallion standing at Eliza Park, is a Group Three winning son of Sadler's Wells who entered stud in 2000.
Fleming's policy has been to support his stallions with top quality mares.
"Desert Sun has achieved his results to date with fairly low quality mares in New Zealand. Since coming to Eliza Park he has had big books of much higher quality mares. We think the best is yet to come for him," Fleming added.
Commenting on Eliza Park's relatively rapid climb to the rank of leading vendor, Fleming was keen to emphasise the contribution of Eliza Park's staff headed by General Manager Denis Roberts.
"All of the staff have worked very hard and topping the sale was recognition for the effort they have put in."