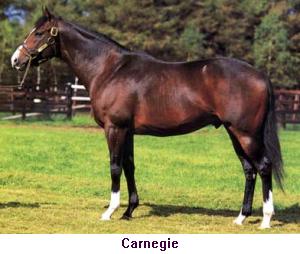 A decision on whether Carnegie will stand in New Zealand again this season or relocate to Darley's Australian base in New South Wales is being mulled over by one of the world's richest men.
Darley's Australian representative Oliver Tait said today that a decision would be likely in the next couple of months.
"We will be able to confirm where Carnegie is standing for the 2002 season after Easter," Tait reported.
"Trelawney Stud have done a great job with him," he added.
The final decision will be made by the stallion's owner Sheikh Mohammed, and there is a chance Australian based breeders could see the son of Sadler's Wells standing at Darley's base at Collingrove Stud in the Hunter Valley.
Carnegie is making every post a winner of late with the exploits of his in form three-year-old son Carnegie Express, who swept away with his second consecutive Group One race in Saturday's Rosehill Guineas in Sydney.
Although Trelawney Stud welcomed the win of Carnegie Express, the earlier win of the previously unraced Rohatyn in the listed Australian Cup Carnival Stakes at Flemington would have also given Carnegie fans a great deal of satisfaction.
Rohatyn, a member of Robbie Laing's Sutton Grange Complex north of Melbourne, became Carnegie's first south hemisphere based two-year-old stakes winner.
Laing was confident the youngster would prove hard to beat despite a setback at the same track a fortnight earlier.
The $47,000 New Zealand yearling purchase was set to debut down the straight but was a late scratching after escaping behind the barriers and tumbling over.
Thankfully the youngster came out of the incident unscathed and as Laing put it after the win, "I guess it was worth the wait."
Laing is predicting his young colt has a bright future and his immediate future is still being finalised.
"Where he goes from now all depends on how he pulls up. We may give him a break and set him for the Spring," Laing said.
"I've got no doubt he will get better as the distance get longer," Laing said of Rohatyn after he worked home strongly to down the speedy Oronoko over 1200 metres.
While Trelawney Stud has welcomed the results achieved by Carnegie (who's other top stakes performers include Amalfi, Sircarn Damon and Carnegie Daian), they have their fingers crossed they can retain the services of the Arc winner to stand in 2002.
But that decision rests in the hands of Sheikh Mohammed. Stay tuned!