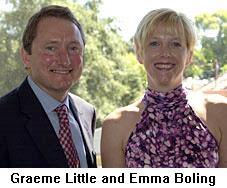 Tuesday will be a day of mixed emotions for prominent Victorian breeder Emma Boling and her partner Graeme Little.

The action in the ring at the Australian Easter Yearling Sale in Sydney is expected to frantic in an hour period from about 12.40pm.

Not long after 1pm, while most people would be tucking into lunch around the country, Boling will be a bundle of nerves when her pride and joy, the first foal of her star galloper Catnipped enters the ring for sale.

Ever since the colt was born on September 2 in 2000, Boling and her partner Graeme Little have been by his side. There's little doubt they've probably cared for this four legged creature more than they would have each other! The time and dedication of the Pines Stud team will come under the microscope when Inglis & Son offer the colt for sale as lot number 80.

Most would remember the sensational juvenile Catnipped. Trained from Lindsay Park after being originally purchased as a yearling on the Gold Coast, the well bred daughter of Rory's Jester was a star on the track. During her first preparation she won the Group Two Maribyrnong Plate at Flemington while a couple of months later she set a race record in her win in the Magic Millions at the Southport Racecourse on the Gold Coast - just a stone's throw from where she had been sold twelve months earler.

"It's going to be an emotional day," Boling said this week. "He's very much like part of the family. We're very proud of him."

And why wouldn't they be proud. Not only is the colt out of one of the best juvenile fillies seen in recent years she is in fact Rory's Jester highest stakes earning racemare - and that is quite an honour!

Oh did I forget to tell you he was by a stallion called Danehill. Oh yes that's right he's the sire responsible for a few handy types like Danewin, Flying Spur, Merlene, Danzero, Ha Ha, Desert King, Dane Ripper, Viking Ruler, Catbird, Danendri, Mozart, Nothin' Leica Dane and Camarena. This Danehill is quite a sire! He is on track to become the Champion Australian Sire for the sixth time this season and there's no real end in sight.

Two words spring to mind when you cast an eye over the pedigree page of the bay colt golden slipper. He's by Danehill the sire of Slipper winners Danzero, Merlene, Flying Spur and Catbird. He's out of the Magic Millions winning juvenile Catnipped, who is the highest stakes earning mare of the Golden Slipper winning Rory's Jester!

While many potential buyers tend to feel the first foal of any mare can be a somewhat weak specimen - they better check this fellow out in the flesh. "He is certainly not a first foal colt. He is strapping and in the past three months he has just blossomed and he just looks so athletic now," Boling said.
As you can see Catnipped's first foal is a cracker! "He is a strong colt and he has the real Danehill look," Boling added. "He looks like a two-year-old, he should be a real runner."
"Catnipped still holds the race record for the Magic Millions. She won in better time than Lovely Jubly, Testa Rossa, General Nediym and Snippets. And her colt is a three quarter brother to Chuckle who ran a top second in the Magic Millions earlier this year."
The colt didn't set the world on fire when he was foaled at The Pines, a picturesque boutique stud on the Mornington Peninsula. "He wasn't overly big when he was born but since then he's been really developing into a cracking colt," Boling reflected.
Fans of Catnipped would be excited to know that she has just produced a Danzero colt. "He's a similar type to the Danehill yearling," Boling said. And the Magic Millions heroine is now in foal to the exciting Darley shuttler King's Best. What's the chances of a return date to Coolmore's pin-up? "We might just head back to Danehill if the colt sells well next week."
The Danehill-Catnipped colt is just one of three yearlings which Boling and Little will be selling under the Collingrove Stud banner.
Lot 199 is also going to be a highlight lot. The bay colt is a half brother to the brilliant former racehorse turned sire Racer's Edge. The colt, which like the Catnipped youngster is Super VOBIS qualified, is by the former European Horse of the Year Peintre Celebre.
"He's a really nice type," Boling said. "He's completely different to the Catnipped yearling though. This guy is going to need a bit more time but he's got a lovely temperament." As well as the temperament he has the looks and the pedigree to match. He looks a Guineas type chance as a three-year-old.
The last of the trio is a "beautiful" filly by the exciting North American juvenile sire End Sweep and out of the Shy Rambler mare Kashalyn. That means the chestnut filly is a half sister to the four time Group One winner Juggler.
The filly is the first Boling and Little have bred from the mare. "We puchased Kashalyn in foal to this filly," Boling said. "I really like this filly she walks like Marilyn Monroe!"
"She is extremely athletic and is very mature and she is a real quick learner around the farm." Like the other two yearlings the filly (lot 243) is also VOBIS qualified adding great incentive to potential Victorian buyers.
So while most of us continue our demolition of a swag of easter eggs spare a thought for Emma Boling. Let's just hope she's willing to have a champagne on at about 1.30 on Monday afternoon.
Little and Boling pic by Quentin Lang.