As expected the Danehill colt out of Canny Miss, the full brother to the Derby winning filly Camarena, has been sold for a current topping price of $950,000 during the first session of the Australian Easter Yearling Sale.
The colt, catalogued as lot number 72, was knocked down to the winning bid of John Ferguson, a Bloodstock Advisor to Darley Australia.
Ferugson said Darley were delighted to be able to purchase the colt from a mare they now actually own.
"The colt was a top individual with a great pedigree to match," Ferguson said after the sale.
"We're certainly very happy to have him bought him today."
The colt was offered by Collingrove Stud who were acting as agents for Victorian stud Davilora Lodge, the property of David Thomas and Lorraine Smith.
"We're pretty excited," Smith said moments after the hammer fell. "He was a top class colt and he got a price he certainly deserved."
Bidding for the colt began at $500,000 and quickly jumped to $600,000 with one single bid before bids of $50,000 rose the price to $900,000. Two further $25,000 offerings and the price stalled at $950,000 - the final sale price.
Darley have established somewhat of a love affair with the family of the topping colt. They purchased Canny Miss in foal to Danehill after already have pruchased Camarena from her owners after she was retired from the track.
Canny Miss has now produced a filly for Darley after what was understood to be a seven figure deal. The top producing mare has since been served by one of the country's hottest sires.
"Her Danehill filly was a late foal so it was decided to send her to Kentucky and she was served by Danzig and she is in foal," Ferguson added.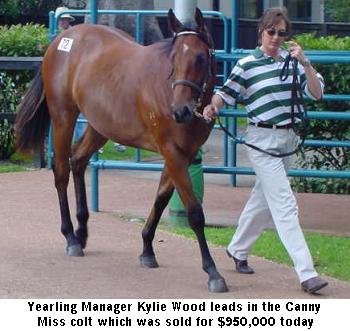 The sales was another great result for Collingrove's Yearling Manager Kylie Wood. Kylie had been in charge of preparing the youngster for the sale and the high price continued on from last year's sale.
"Last year I was also in charge of the Danehill-Rossignol colt who topped the sale ($1.1 million)," Wood said.
"So for another top price today I'm pretty stoked," she enthused.