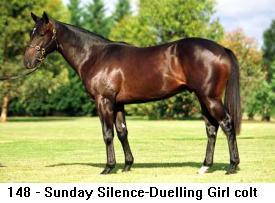 Champion Japanese stallion Sunday Silence has stolen the show when one of his colts was sold for a current session topping price of $1.2 million late on the afternoon of the first day of the Australian Easter Yearling Sale in Sydney.
And you guessed it - the power of Dubai through that emirate's ruler Shiekh Mohammed came to the fore again when the final bid was offered by John Ferguson.
Ferguson was buying on behalf of Darley Australia, the stud owned by Shiekh Mohammed bin Rashid al Maktoum.
Bidding for the brown colt, which was catalogued as lot number 148, kicked off at $300,000 and in fifty thousand offerings the price quickly rose to $800,000. From there two bids of $100,000 rose the price to the magical seven figure mark. Then four fifty thousand offerings boosted the final price to $12.2 million.
Ferguson said the colt would further enhance their Australian operations and it was a pedigree that the connections knew well.
"The colt comes from a family we know well," Ferguson said. "Godolphin raced Faithful Son and they also have an exciting galloper in the pedigree called Naheef. He (Naheef) is expected to be an excellent horse next year," he added.
A major attraction to the colt was the fact he was by the Japanese siring sensation Sunday Silence.
"He is by arguably the world's best stallion as well," Ferguson confirmed.
The Sunday Silence purchase was the fifth sale to Darley. Earlier they coughed up $425,000 for a Zabeel filly (half sister to Pure Theatre), $480,000 for a Zabeel filly (ex Arletty), $950,000 for a Danehill colt (full brother to Camarena) and $260,000 for a Loup Sauvage filly (half sister to So Gorgeous).