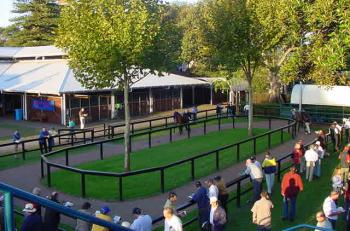 The Australian Easter Yearling Sale has made a "very satisfactory" start according to the Managing Director of William Inglis and Son Reg Inglis following the first session in Sydney today.
An average price of $156,266 was recorded for a total of 156 purchases with a selling rate of a tick over 80%.
Inglis said he was "delighted" with the fact the session topping price today reached a massive $1.2 million.
"It was terrific for the Sunday Silence colt to sell for $1.2 million," Inglis said. "We were delighted with that price."
Although saying the price was better than he first expected Inglis said the sales topper could be still to go through the ring.
"I wouldn't be surprised if we are yet to sell the sales topper," Inglis added. "There are still some excellent yearlings to come in the next couple of days."
Inglis said the added interest from international buyers was a great result for the country's leading yearling sale.
"We now have buyers from many parts of the world and to have an American trainer here, who recently had a Breeders' Cup runner, was also a bonus," he added.
Officials at William Inglis & Son are expecting the clearance rate to improve to near the strong levels of last year.
"The slow start with the clearances can be expected to improve with the vendors and owners having to adjust to meet the market," Inglis concluded.
The second session of the Australian Easter Yearling Sale coninutes at the Newmarket complex at 5.30pm tomorrow.
Highlights include a Danehill filly (ex L'on Vite), the full sister to Champagne, the Zabeel colt out of Let's Elope and a Sunday Silence filly.