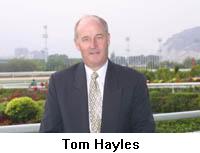 Tom Hayles, the chief Steward for Thoroughbred Racing South Australia, will arrive in Macau on Sunday as he prepared to take up his new role in that country.

Hayles, who's been involved in the industry for over three decades, has been the Chairman of Stewards in Adelaide since 1993.

The Macau Jockey Club issued a statement yesterday saying it was delighted at the appointment.

"The Macau Jockey Club is pleased to announce the appointment of Mr Tom Hayles as Senior Stipendiary Steward effective 1 February 2002," the statement said.

Hayles' career began in 1969 when he began working for the Tasmanian Racing Club. In that time he served in various areas including track maitenance, barrier work, clerk of scales and a judge.

In 1979 Hayles moved to Adelaide where he was appointed as the Master of Apprentices. Some six years later he was appointed Licensing Stewards and another five years on was promoted as Deputy Chairman of Stewards.

Hayles, a mad keen supporter of the Adelaide Crows, has been a respected member of the South Australian industry.

His replacement is yet to be appointed and current Deputy Graham Loch is the Acting Chairman in the meantime.