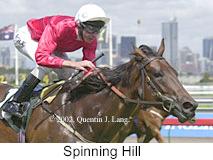 A confident betting plunge on Sydney mare Spinning Hill was successful when she broken into the Group One Winner's Club by taking the $402,000 Lightning Stakes at Flemington today.

A member of the Guy Walter stable, Spinning Hill sat in the bunch of runners on the outside of the field before busting to the front to beat fellow outside track member Mistegic.

Chong Tong was clearly the first horse home on the inside of the track and wound up in third place.

Walter was confident the winner would run well as Spinning Hill had often performed well when fresh in the past.

"She'd done everything right in the lead up and I felt she was a really big chance today," Walter said.
"It was still a big effort as it was her first start down the straight and she's a better 1200 metre horse," he added.
The mare has been in Victoria for about a week, based at Ballarat.
"The people at Ballarat have been great and the Turf Club allowed us to gallop on the course proper on Tuesday morning, which was an essential part of her work," Walter said.
For Steven Arnold it was Group One winner number five. Since October the tally has jumped from two thanks to a feature double to Magical Miss (Thousand Guineas and VRC Oaks) and today's victory.
Spinning Hill also broke what had become a 14 year drought for mares in the Lightning Stakes. No mare had won since Special was successful in 1988. Isca did win in 1999, but she was a filly. Thirteen other mares had tried in the past ten years but none had captured the Group One sprint.
Walter will head toward the Group One Newmarket Handicap in a month and in between he could look to another feature sprint.
"Depending on how she pulls up we have the option of starting in the Oakleigh Plate. It's a bit too long in between today and the Newmarket and we could run in between (in the Oakleigh)," Walter said.
PICS - Quentin Lang.