Lee Freedman's chances of winning this weekend's $1 million Singapore Classic have strengthened with his two runners settling in to their temporary home well.

The consistent grey Le Zagaletta and last season's South Australian Derby runner-up Bush Padre have both thrived since arriving last weekend.

Both gallopers were given their first look at the track yesterday morning with both coming through their light workout in good style.

Freedman's travelling foreman Michelle Easton said the horses had settled in extremely well in Singapore.

"Everything is great here, the horses are well and have put back on the weight they lost on the trip over," Easton said.
Freedman has confirmed that Steven King will partner Le Zagaletta and Danny Beasley will ride stablemate Bush Padre.
"Both of the horses arrived in good shape and all we are hoping for now is a bit of luck for the race," Freedman said.
"It's the perfect kind of race for both horses and they deserve the chance to be racing for a rich prize," he added.
Meanwhile, Freedman also confirmed he will back up Saturday's Schweppes Cup winner Don Eduardo in this weekend's Shannon Classic.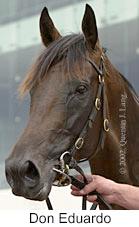 Freedman won't be going to Singapore instead prefering to be in Melbourne for the big Futurity race day on Saturday. He will saddle up Barkada the likely favourite in the feature event.
"Anthony will be heading over to represent me in Singapore," Freedman added.
Most of the Singapore Classic runners were seen at the track early yesterday in their lead up to the big race.
Cyberhorse will bring all of the news back from the Singaopre Classic throughout the weekend - so stay tuned and cross your fingers for our local representatives Le Zagaletta and Bush Padre!
PICS - Quentin Lang.