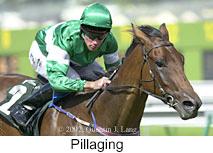 Pillaging hasn't been ruled out of running in next Saturday's Golden Slipper in Sydney after a three length slaughter of his opposition in this afternoon's Group One VRC Sires' Produce Stakes at Flemington.

After racing just behind the pace in the early and midde stages the Marauding gelding soon hit the front at the top of the straight and then strode away for an effortless three length win.

Winning trainer Lee Freedman wasn't at Flemington today instead in Sydney saddling up Don Eduardo in the Group One Rosehill Guineas. Lee's brother Michael was left in charge at headquarters.

There are a few issues still to sort out for the Freedman camp before they decide on whether the Slipper is to be his next start or not.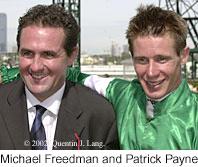 "Just trying to think about what Lee would prefer and I guess he might just wait for the Heroic Championship," Freedman said.
Had the race been two weeks after today's Sires' Produce then Freedman feels the Slipper "would definitely be a goer."
"There would have to be a flight organised for him. He certainly wouldn't go up if he had to be floated during the week," Freedman added.
Freedman, who was hobbling around the mounting yard after a recent knee reconstruction, said Pillaging was "a very good two-year-old."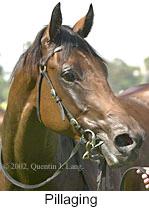 "He's showed us brilliant ability and his recent form had been really strong," Freedman said.
Winning jockey Patrick Payne was full of praises of Pillaging saying after the race he was a "very, very smart horse."
"He relaxed really well and when I wanted to go he responded in great fashion," Payne said.
At the post Pillaging ($3-$2.90-$3 fav) had downed Delago Brom ($2.60-$3.80-$3.50) by three lengths, while the leader for much of the race Tom Coureuse ($15-$17) was a head away in third place.
Milkshake, a last start winner of the Adelaide Magic Millions 2YO Classic at Cheltenham had little luck striking trouble on two occasions.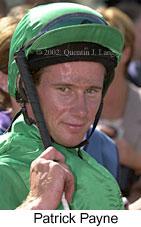 "He first got into trouble at the half mile and then things again got very tight in the home straight," Milkshake's jockey Peter Mertens said.
"I'm sure after a break he is going to develop into a nice horse. He's still a bit immature and after a break he should come back stronger mentally," Mertens added.
Our Webster, a last start stakes winner at Caulfield, was the disappointment of the race finishing up last in the field of eleven, some 14.8 lengths from the winner.
PICS - Quentin Lang.