Prior to Easter Saturday the grey gelding Shutayr was a maiden. Now just a handful of days later he is being regarded as one of the country's most exciting jumpers.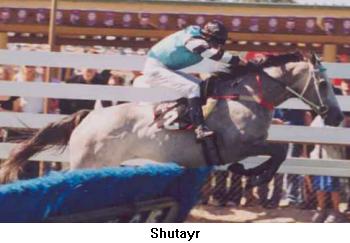 It was Easter Saturday and the tears of joy were flowing freely at a suburban TAB agency in Melbourne. Sure that's a long way from the action of the world's biggest picnic race meeting, but for rookie owner and breeder and huge racing fan Julie Preston Easter Saturday 2002 is a day she will never forget. At the time she even thought this incredible feeling would not be matched again.
"What more can a girl want," Preston beamed after her gelding broke his maiden status in fine fashion. "It's always been a dream of mine since I was a girl to win a jumping race at Oakbank with a grey horse. I now can't believe it's come true," she added.
Hang on Julie your fairytale story is about to get a whole lot better.
When the gelding's trainer Joe Lockyer, a former jumps jockey who had tasted success at Oakbank in the past, reported to Julie and her other part owners John Cameron-Smith and Lynden and Christine Burns, that Shutayr had pulled up in fine fashion Preston made a split second decision that she will never regret.
"When I knew they were going to be backing up my boy in the Classic Hurdle on Monday I just had to be there for it," Preston recalled. "After missing what happened on Saturday I wasn't going to miss Monday - no way!"
So Preston, with just a handful of hours sleep after celebrating with friends into the wee small hours of Easter Sunday morning, hopped into her car and headed west.
At half time in the AFL match between the Adelaide Crows and the Western Bulldogs, I made a call to the Prestonmobile which was on its way to Adelaide. A surprisingly fresh voice said, "Greg I'm on my way to Adelaide right now, I grabbed some sleep and then jumped in my car. There's no way I'm not going to be there on Monday to see him (Shutayr)."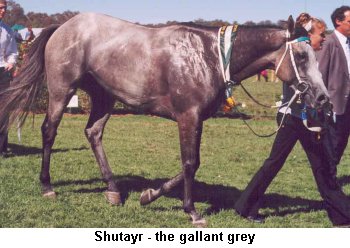 Forty eight hours after drawing clear of his rivals in a dashing Dicksons Restricted Hurdle win the gelding was sent to the barriers for what would be the most important race in his short career.
While the champagne bubbled at many points around the Oakbank circuit, the nerves were close to bubbling over for Preston, who held her breath as her grey entered the stalls for South Australia's most prestigious race for hurdlers - the Yalumba Classic Hurdle.
The Yalumba Classic, or the Harry D Young as it was known for most of its early life, has been won by some of the best hurdlers ever seen in this part of the world. The honour roll contains names like Zama Lad, We Ourselves, New Delhi, Harcourt, New Emperor and many others. Could a horse which had never won a race just three days ago add his to the impressive list? He couldn't surely, or could he?
Nobody told Shutayr, a son of Shuttlecock Corner, he was the underdog. Like he did two days earlier the gallant grey was eased back to the tail of the field where he eyed his opposition from behind for the first half of the gruelling event. When Irish born Pat Kelly released the handbrake in the middle stages of the race Shutayr was ready and waiting.
In little more than a couple of hundred metres Shutayr had circled the field of proven hurdlers and was eyeing the leaders. He then shot to the front to the tones of race caller Terry McAuliffe, "he's gone a long way from home."
For the final 600 metres Preston said she couldn't remember breathing. For a fleeting moment McAuliffe could see a challenge being mounted by the John Wheeler trained Wilson Road, the horse who Shutayr had beaten by four lengths two days earlier.
Wheeler is fondly known around Oakbank as the King. Was John going to do it again - or would racing's battlers take a memorable double. Moments after McAuliffe had broadcasted the possible challenge from Wilson Road he quickly reaffirmed that Shutayr was digging deep and had two more fences to clear.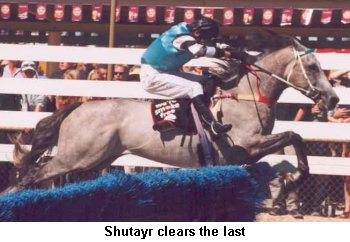 Just two fences. Those last two jumps may be only over a length of about 400 metres, but this is a stretch of Oakbank that has claimed many horses. After already having galloped over two miles and cleared about a dozen hurdles things are starting to tighten up and both horse and rider begin to tire. The hooves are harder to pick up, the jockeys previous strong urgings are now more like a "throw the reins and hope" exercise. Many say the final 400 metres of any feature jumping event is as tough as the first two miles. Only last year champion cross country jockey Brett Scott had described how he was fatiguing as he drove St. Steven to a narrow win in the Great Eastern Steeplechase - over an even longer trip.
There was no Brett Scott in sight on the track this year, instead it was Pat Kelly's turn to ask the leader for a supreme final effort. After such a dashing performance in his restricted hurdle win on Saturday, Shutayr was entitled to falter over the final stages.
Falter, you have to be kidding! Instead of looking a tired horse and being grabbed over the final stages Shutayr responded. He responded so well he quickly extended the amount of "air" between he and his main challenger Wilson Road.
While Preston, Cameron-Smith, Burns (by two) and Lockyer held their breath as their charge approached the final obstacle, jockey Pat Kelly realised he only had to clear the fence and one of racing's best fairytales would be complete.
Forget the tragic ending where the leader clips the hurdle and tumbles to the ground, Shutayr sailed over the last like a horse possessed. This gelding, who was regarded as a "non-winner" a couple of days earlier was now streaking away from his rivals for a famous victory.
Some six and a half lengths separated Shutayr and the rest. After being last early the gelding had drawn clear to make the race his own.
While the third, fourth and fifth placegetters fought out their "own race" in the steward's room, Preston led some wild celebrations.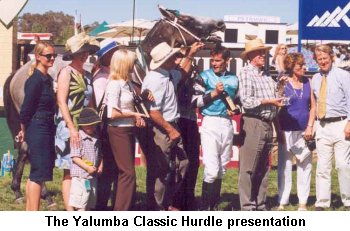 Australians love their sporting heroes. They love nothing more than an underdog getting up and scoring an unlikely win. Aussies love a fairytale, and at Oakbank on Easter Monday Shutayr gave them all a reason to smile.
The little Morphettville battler enjoyed a few days rest after his memorable win at the property of his part owner Lynden Burns and he will now be trained toward the Nationals series in Melbourne.
Shutayr we salute you!
PICS by Jenny Barnes.