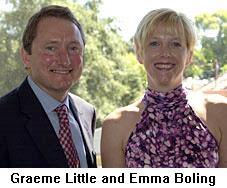 Well known Victorian breeder and owner Emma Boling is continuing to reap the rewards of a decision to race horses on the international stage when Steal a Scene romped to victory in Singapore on Saturday.
For Steal a Scene, who is now trained by former Melbourne horseman John Meagher, is was win number two in Singapore at just his eighth start.
The gelding is one of three horses Boling has sent to race in Singapore and all have won.
"I guess you could call it an international experiment," Boling told Cyberhorse. "We were keen to branch out onto the international scene."
In Steal a Scene's case Boling felt he was a prime candidate for Singapore mainly because of a Group One winning Perth mare.
"Being a front runner Singapore looked an ideal option for Steal a Scene," Boling reported. "For a while he used to always race against Voile D'or and the two both were front runners and they quite often used to bring each other undone."
A stakes placed performer in Australia, Steal a Scene was bred by Alick and Joy Rasheed of Zahia's Lodge from Hahndorf in South Australia.
"We've had a good deal of luck with horses bred by the Rasheeds," Boling added.
"Apart from Steal a Scene we also purchased Take a Storm from them and that horse was showing great potential until she was killed."
"We're just hoping our third purchase from them, a Danzig Connection two-year-old half to Rechabite, can continue the good run," Boling said.
Steal a Scene is one of two present day Singapore based performers for Boling. The former Lindsay Park trained youngster Sloane Street has performer with great distinction from just a handful of starts.
Sloane Street, a daughter of Dolphin Street, has had five starts in Singapore and has been unplaced only once. She was a winner at her last start on March 29, beating Super Starbomb easily. Super Starbomb then enhanced that form by winning the seventh race on Sunday.
Boling's initial success in Singapore came thanks to the former Melbourne galloper (The) City Kid. At just his second start in Asia the son of Citidancer won the Republic of Peru Cup with Mick Dittman aboard.
"City Kid was trained by Mick Kent and when he shifted to Macau it was only logical to use John Meagher," Boling said. "He's an excellent trainer as we all know here."
The luck of the Melbourne based owner looks set to continue next week when Sloane Street guns for back to back victories.
"Let's just hope she can win again," Boling said.
It's been a big few weeks for Boling. Earlier this month she was appointed to the committee of the Moonee Valley Racing Club and then sold the first foal of Catnipped - a colt by Danehill - for $500,000.
"Being chosen to become a committee member for Moonee Valley was a great honour," she said.
"I have a real soft spot for the Valley as it was probably the first racetrack I ever attended with my grandmother."