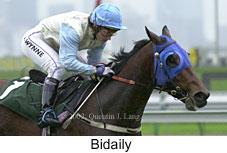 Three-year-old Bidaily continued his rise through the ranks when he scored an easy win in this afternoon's Super Vobis Long Tan Handicap (1735m) on a bleak afternoon at Flemington.

Bildaily came into today's metropolitan assignment after two consecutive wins on the provinicial circuit. His most recent five and a half length demolition as Geelong was super impressive and insured he was sent out a hot favourite today.

Leading lady rider Sally Wynne, who's ridden the gelding to his three wins, was impressed with his performance today.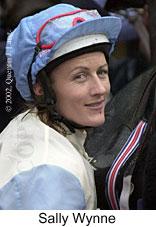 "He's certainly a horse on the way up," Wynne said after the win. "He put paid to them very easily which is always a good sign."
Bidaily was originally handicapped with 54 kilograms but an extra two and a half kilos was added after his easy win at Geelong.
"It's been a pretty big effort," winning trainer Rob McGuinness said. "He's actually had to carry 57 and a half in the end."
Bidaily derives his name from his sire the former Yallambee Stud based Tertain, a sire who's now standing on the Apple Isle, Tasmania. Tertian means every other day, hence Bidaily.
The gelding was bred by his owners, the Turnbulls, when Tertian stood at Yallambee Stud in Victoria.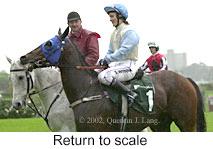 Wynne had the favourite positioned on the outside of the leader Thundahar and in the middle stages of the home straight the gelding hit the front and then cleared away from an easy victory.
Thundahar was able to cling on to second place ahead of Transferral, who had raced in fourth place throughout the race.
PICS - Quentin Lang.