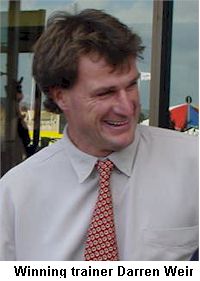 Former Wimmera trainer Darren Weir experienced his greatest thrill in racing this afternoon when She's Archie provided him with his first stakes race win in the Feltex Carpets SA Oaks at Morphettville.

Weir, who is now based at Ballarat, was not surprisingly a bundle of excitement after his filly pulled out all of her reserves for a half head win over the favourite Tully Thunder.

The win extended a Morphettville love affair for leading Melbourne jockey Peter Mertens. If Asia should happen to win Monday's Adelaide Cup there could be a point in renaming the track to "Mertensville."

For Weir though the excitement of the win was close to a touch over whelming.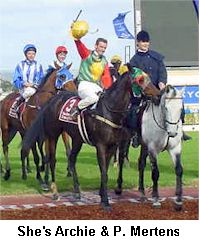 "This is bloody terrific," Weir exclaimed as his filly was led back to scale.
"It's an absolute dream come true," he added. "This filly was my first ever Group race runner and for her to finish second in a Group One and then win the next one is amazing."
She's Archie, a daughter of the unheralded Victorian sire Archway, gave a group of country "battlers" the thrill of a lifetime.
She's Archie was bred and is raced by a group including long time Weir clients Worrall and Lorraine Dunn.
Oaks ambitions for connections were raised by country Victorian jockey Garry Murphy after a second placing at a lowly meeting at Echuca.
"Garry had a good opinion of the filly and he said the Oaks races in Adelaide would be an option," Weir reflected.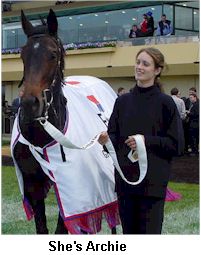 "At that time I guess it was just really a dream. Sure I hoped he would step up to that, but a race like the Oaks is so far off," Weir added.
Weir began training about six years ago after spending time linked closely with leading Stawell based trainer Terry O'Sullivan.
"I used to be a farrier and a horse breaker back before I started training," Weir reflected. "Back then I used to also do a lot of pre-training."
For the 32-year-old trainer today's win was a dream come true. The win clearly eclipsed his previous biggest race success.
"I guess a race in town or one of the country cups would have been my biggest win before today," Weir said. "This is just so much better it's unbelievable."
In a great finish She's Archie found just enough to hold out the Ross McDonald trained Tully Thunder. The half head win by She's Archie denied McDonald a Honda Civic as part of the Trainer's Treasure Trove bonus scheme.
The Graeme Rogerson trained Gold Lottey gave a good sight before finishing third. The well fancied Michael Moroney trained The Mighty Lions was fourth home.