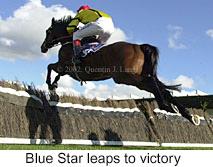 Eric Musgrove has captured the only feature jumping event that had eluded him during an illustrious training career when Blue Star scored a runaway win in today's $76,500 The Australian Hurdle (3500m) at Sandown.

The win by the Pompeii Court gelding gave his former New Zealand and Adelaide based jockey Tom Hazlett with his greatest thrill in his jumping career.

"I won the Trevor Clark Steeplechase last week (on Blue Star's stable mate Big Bonus) and also a Von Doussa Steeplechase (Squire John), but this is my biggest thrill," a beaming Hazlett said after the win.

So excited was the winning jockey he let out a huge squeal of approval when he took of his helmet and saluted the crowd when they returned to scale.

Hazlett is riding a lot of work and is picking up many race rides for Eric Musgrove since shifting from Adelaide in March.

After a ride that was described by Musgrove as "beautiful" Blue Star booted clear of his rivals before flying over the last jump and then drawing clear of his rivals for a commanding victory.

The gelding, who's now raced over the past three Saturdays, is "likely" to head to the Grand National Hurdle according to his trainer.

Regal Royal, who'd impressed with back to back hurdle wins at Moonee Valley and Flemington, got back toward the tail of the field throughout before working home strongly to grab second place right on the post. Sir Cool boxed on well to finish third.

Of the other fancied runners Lance Corporal enjoyed a nice run in transit but was under pressure a long way out when the pressure was applied.

The John Wheeler and Brett Scott combination were out of luck in their quest to capture the feature jumps race double when Real Tonic failed to figure in the finish and racing at the tail of the field. Real Tonic did make up some late ground in the straight, but could still manage to finish only seventh.

DETAILS AT A GLANCE

Where the others finished (fourth to last): Mr. Lightfoot, Built Him, Zabuan, Real Tonic, Woody Woodpecker, Lance Corporal, Liston, Family Favourite. Margins: 4 ¼ lengths x 1 length. Time: 4-2.44 (40.13). Track: Slow.

PIC - Quentin Lang.