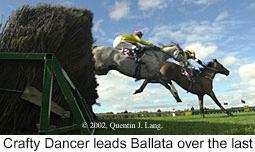 Brilliant cross country jockey Brett Scott received plenty of satisfaction when Crafty Dancer held out Ballata in a thrilling Carlton Draught Australian Steeplechase (3800m) at Sandown yesterday.

Scott, who rode the gelding to victory by a half head, has been the caretaker trainer of the five-year-old since trainer John Wheeler sent the gelding to Australia before the Oakbank jumping carnival at Easter.

Yesterday the gelding broke through for a well deserved win, but had he not been inconvenienced prior to the home turn the eventual runner-up Ballata would surely have won.

"Oh well you can't do much about it, but he probably should have won," Ballata's dejected Adelaide based trainer Gordon Richards said moments after the race.

"We just have to look forward to the National I guess," he added.

There were some anxious moments for the Crafty Dancer camp when Willy Harnett, the rider of Ballata, used the option of viewing the film with the view of lodging an objection.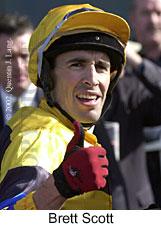 "In the home straight the winner did shift out towards us, but he never actually bumped us," Harnett said after telling stewards he would not lodge a protest. "My horses still had every chance at the finish to win, but he just couldn't quite get there."
"I'm certainly looking forward to the National," Harnett said referring to the Grand National Steeple at Flemington.
Crafty Dancer, a five-year-old by Just a Dancer, was beaten nearly 30 lengths by Ballata in the 4950 metre Great Eastern Steeplechase at Oakbank on Easter Monday, signifying the placings could well be reversed in the longer Grand National.
For Scott the win was his third consecutive victory in the race. He won the race last year aboard Worthy Knight, and a year earlier he booted home Kosrose in the Australian Steeple.
"It's certainly been a very good race for me," Scott said.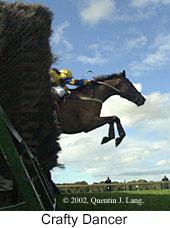 Scott, who also represented winning trainer John Wheeler yesterday, said he felt the gelding could be better in the National.
"I'm sure he is going to improve on today's win," Scott said. "We maybe got to the front a little early today, so to hold out the grey was a pretty good performance."
"You'd have to think the National is going to be a race in two between this bloke (Crafty Dancer) and the grey (Ballata)," Scott predicted. "And I guess you may have to also throw Leading Bounty in there as well," he quickly added.
Scott said Crafty Dancer is likely to have a start at Flemington in the National lead-up to "have a look around."
Meanwhile, the stable will start the Nakayama Grand Jump winner St Steven this Saturday as he heads to his ultimate aim of the Hisken's Steeplechase.
PICS - Quentin Lang.