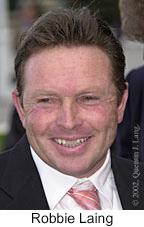 A few weeks ago Sutton Grange based trainer Robbie Laing thought he had a fabulous five in the stable, an elite group of gallopers that would keep his name in lights for the coming spring carnival later this year.

Pantani, Rohatyn, Roman Arch, Magnus Bay and Transferral were the five gallopers Laing had earmarked to lead his charge up the trainer's premiership table and into a swag of feature race success.

But now Laing admits his fabulous five has now grown to be a sizzling six. Joining the ranks of the team that already houses an SA Derby winner and The Jansz victor, is a lovely filly by Rubiton.

Ruby Slipper, as she is know to most of us, has now won her past three races after a comprehensive win in the Jayco Caravans Handicap (1000m) at Sandown yesterday.

"I was only thinking a few weeks ago I had a five horse group that would hold the stable in good stead in the near future," Laing said. "Now this filly (Ruby Slipper) has to have joined them, she's so professional and has loads of ability."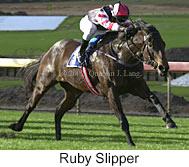 Despite backing up just three days after a four length demolition of her rivals at Moonee Valley on Wednesday, Ruby Slipper again cruised to victory, even after a two kilogram penalty for that win.
"If she was to be beaten today, there would have been only one person to blame," Laing said referring to himself.
"Plus people must realise I would certainly not have backed her up if she had not pleased me in every way since Wednesday," he added.
Laing, who won two Group races during the recent smoke-free Adelaide Cup Carnival in South Australia, is based at a magnificent complex just outside of Bendigo. With the new stables able to house dozens of horses and the best facilities at his disposal, it's no surprise to see the Laing colours being continually carried to success in recent weeks. The Sutton Grange stable is owned by well known racing and breeding enthusiast Peter Sidwell.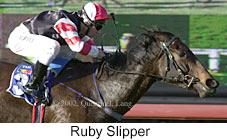 While not admitting to adding pressure to himself by declaring he should be one of the big improvers on the Melbourne training premiership next season, Laing knows there will be expectations for him to do such a thing.
"I know Peter will be hoping so," Laing said when asked whether he feels he should be high up in top ten of the trainer's table in twelve months time.
With the support of Sidwell, a "great staff" and family, a large stable, first class facilities and a great eye for horseflesh, Laing's recent strong form around the country is expected to continue for many years to come.
And let's not forget the Sutton Grange complex also houses one of the country's most promising jumpers, yesterday's Australian Hurdle runner-up Regal Royal.
After getting back in the field in yesterday's feature the recent Flemington and Moonee Valley Hurdle race winner powered home over the final stages. He looks on track for the Grand National Hurdle at Flemington.
PICS - Quentin Lang.