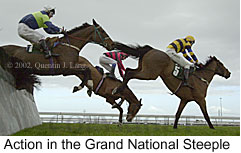 Brett Scott reaffirmed his position as Australasia's premier jumps jockey by treating racegoers to a faultless riding display in winning yesterday's $202,000 Cleanevent Grand National Steeple (4700m) at Flemington aboard Crafty Dancer.

Winning trainer John Wheeler was stuck for the right words to use when describing the ride by his Mornington based stable foreman and jockey.

"What a sensational ride," Wheeler said of Scott's handling of Crafty Dancer, which gave the popular New Zealand based trained his first success in the Grand National Steeple.

"I've only ever had one other runner and that was St. Steven who fell last year," Wheeler recalled. "So to win it for the first time is a great thrill."

Plans for Crafty Dancer after the Grand National Steeple were not planned before yesterday's big race, but it may not necessarily include the Hiskens Steeplechase.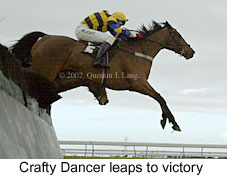 "He could go to the Hiskens, but we really had not made any future plans until after today's race," Wheeler said. "I think I've already got a horse that can win the race, so he might even go for a break," he added referring to St. Steven.
Wheeler said he was confident the best of Crafty Dancer was still to come and he was keen for the gelding to run in the Nakayama Grand Jump, won this year by stablemate St Steven, in 2003.
"This horse (Crafty Dancer) is right up there with St. Steven," Wheeler said. "He's an exciting jumper and he's only going to be better in twelve months time."
Owned by a syndicate from the Taranaki Racing Club in New Zealand, Crafty Dancer a $20,000 bargain buy stalked the leaders in fourth place for much of the race before finding a run between Leading Bounty and Chibuli at the top of the straight. After gaining the run Scott was able to boot Crafty Dancer clear of his rivals and hold on for a comfortable two length win.
It was Crafty Dancer's second win at his past three starts and the success completed the Australian and Grand National Steeple double.
Brett Scott said he couldn't have asked for a better run during the race.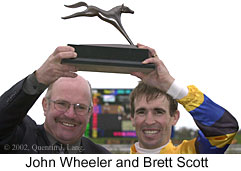 "Everything turned out perfect out there," he said. "We got a lovely run and then the gaps just kept appearing. The speed was good with Chibuli making the race genuine and I was more than pleased with the run I was getting."
"After sitting in fourth place and getting the run between runners and hitting the front the rest was basically history," Scott adeed.
Built Him, with Martin Mills up, chased hard over the concluding stages but was unable to peg back the break established by Crafty Dancer. Corker's Boy and Craig Durden were a further two and three quarter lengths away in third place.
Hibernian Prince, who was always back toward the rear, made some good late ground to finish fourth.
The $4.20 favourite Chibuli, who had led throughout, looked like giving Crafty Dancer a run for his money before crashing heavily at the second last fence.
Bone Jolter, a 40/1 outsider, was pulled up out of the race after suffering a bleeding attack.
PICS - Quentin Lang.