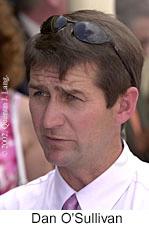 Promising Adelaide filly Oh So Discreet has been sent to the paddock after failing at Victoria Park on Saturday.

Trainer Dan O'Sullivan, who will be relocating to Melbourne early in the new seasion, said the filly had been sent for an immediate spell.

"We can put the performance down to a combination of not handling the track and having had enough this preparation," O'Sullivan said this afternoon.

From a mare who's already produced the top class gallopers Be Discreet and She's Discreet, the filly will not be entering stud this season.

"Although her owners are keen breeders she is definitely racing on," O'Sullivan added. "She might even race until she is five."

Meanwhile, O'Sullivan said news of the death of his former stable star Newsflash was a great tragedy.

Newsflash holds a special place in O'Sullivan's heart and he remained with the Adelaide trainer until he was sold a couple of months ago.

"It's obviously very sad to her about," O'Sullivan said of the gelding who died of a twisted bowel over the weekend.

"He certainly gave my career a great kick start," he addeed. "He won eight in a row and nine of his ten races and he was such a tough and honest performer."

Newsflash was sold to clients of leading Northern Territory trainer Alwyn Trengrove and was being set for the listed Darwin Cup.

PIC - Quentin Lang.