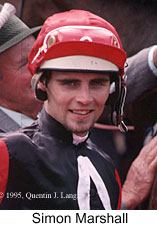 Former top jockey Simon Marshall could be back riding as early as next weekend as his comeback to the saddle continues on the Gold Coast.

Marshall told Sport 927 this morning he was talking with stewards and officials about regaining his riding licence and a comeback in Sydney was imminent.

"I could be back riding as soon at Saturday week and it will definitely be in early August," Marshall said. "We just have to wait and see."

Commonly remembered for his fruitful partnerships with champion performers Hareeba and Durbridge, the 31-year-old reports he is in good shape for his return.

"When I first started it (the comeback) I gave myself a three month time frame," he said. "It's eight weeks in and my weight has gone from 69.5 to 57 kilograms."

Marshall has chosen Sydney as the "logical place" to make his return. "With the weights scale there it seems the place to be. The minimum is 53 kilograms."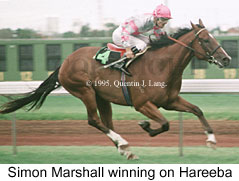 Ultimately Marshall, a former Sky Channel and Channel Nine personality, would like to make an impact at the upcoming Melbourne Spring Carnival.
"The aim to to hopefully link up with a couple of good weight-for-age horses in Sydney and travel with them to Melbourne over the carnival," the comeback rider said.
Marshall is confident he will make a successful return to the saddle after his stint with the Gerald Ryan stable on the Gold Coast.
"I rode a lot of winners for Gerald and he is a close friend," Marshall reports. "He's a masterful trainer and I've been riding between eight and ten for him each morning," said Marshall who's basing himself with his parents on the Coast.
"It's great to get a second chance and I will make sure I make the most of it."
PICS - Quentin Lang.