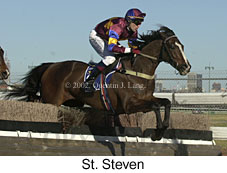 Brilliant steeple chaser St. Steven has become only the second horse in history to win the Hiskens Steeplechase after he scored a dashing and popular win in today's 2002 running at Moonee Valley.

An international winner of the Nakayama Grand Jump in Japan earlier this year, St. Steven followed in the footsteps of the former champion fencer Crisp by taking the Hiskens in consecutive years.

Winning trainer John Wheeler, who freely admits to being one of Crisp's biggest fans, was unwilling to try and compare the jumping stars.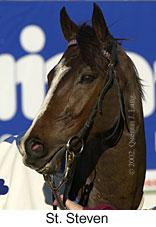 "Crisp was just a champion," Wheeler said after his gelding scored his six length win.
"This fellow is pretty special as well, but it's hard to try and compare them."
"He (Crisp) was a very high jumper, whereas St. Steven just flies over them, I much prefer that in a jumper as it gets them over the jumps quicker and helps conserve energy," the kiwi master trainer added.
In winning today's Hiskens Steeplechase St. Steven must have also wrapped up the honour of being crowned Australia's Champion Jumper for the Season, an award which will be presented at the Australian Racing Champions Night at Crown Palladium on Tuesday.
Winning jockey Brett Scott, who had done much of the work on the gelding from Wheeler's Mornington base in Victoria, revealed after the race of the pressure which had been mounting on connections before today's attempt at history.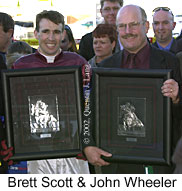 "There's been a fair bit of pressure on the whole lot of us to try and equal Crisp's record," Scott said. "So it's just fantastic to be able to come out and do it in such an easy fashion here today."
Scott was also amazed at the amazing reception the gelding got when he firstly flew over the final fence and then crossed the line six lengths clear of Regal Royal.
"The crowd was incredible," Scott said minutes after the win. "We got a huge roar when we cleared the last and coming back to scale was really sensational."
Connections were given plenty of time to savour the win while the large Moonee Valley crowd was in raptures cheering home Australia's jumping champion.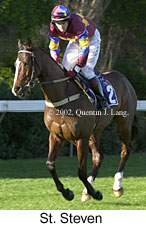 St. Steven will return to New Zealand on Friday with a group of stablemates before being set to go back to back on the international circuit in Japan.
"We'd really have to go back," Wheeler said referring to the Nakayama Grand Jump, the world's richest jumps event St. Steven won this year in great style.
While, St. Steven was faultless in his brilliant win, the effort of the runner-up Regal Royal drew praises from his in form trainer.
"It was a great effort," Regal Royal's trainer Robbie Laing said. "We got beaten be something pretty special."
Regal Royal was eight lengths in advance of the third placegetter Built Him ($13-$16), last year's runner-up. He was able to hold out River Boy in a photo finish for the minor end of the prize.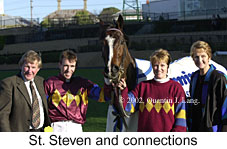 The race was robbed of some gloss when the reigning Grand Annual winner Hibernian Prince was destoryed after suffering serious injuries in a fall during the treble on the final lap.
The tragedy extended a rotten run of luck for leading trainer Eric Musgrove in recent features. Another top class member of the stable Blue Star, a winner of this season's Australian Hurdle at Sandown, was destroyed after falling in the Grand National Hurdle at Flemington last month.
Cyberhorse punters would have enjoyed a great result from the Hiskens Steeplechase. St. Steven was selected to win the race, while the $21 runner-up Regal Royal was also selected for second. The Cyberhorse best bet on today's Melbourne Cup, Shaye Spice was also a comprehensive winner. The exacta paid a massive $41.80 for a $1 outlay.
PICS - Quentin Lang.