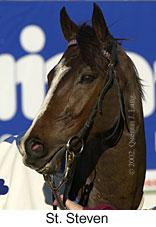 Today's record equalling Hiskens Steeple winner St. Steven will attend a wedding just a day after one of his greatest triumphs on the track.

It's planned for the gelding to be one of the high profile guests at a part owner's wedding at the Mornington Racecourse tomorrow.

Michael Ash, one of the member's of the Pearcedale Cricket Club, is marrying his fiance Sharon Day tomorrow morning as celebrations continue.

"It's funny because Michael proposed at last year's Hiskens and when he (St. Steven) won in Japan he said they would get married the day after this year's race," St. Stevens's trainer John Wheeler said.

Wheeler also joked that the famous equine guest will be the only one at the wedding who'll be able to do a certain thing under the table!

The wedding will kick off at 11am, less than 20 hours after St. Steven scored his six length victory.

PIC - Quentin Lang.