Exciting young sire Lion Hunter is making news all over the place. Not only has he got 2 metropolitan winners and 3 placegetters from his first 5 horses to the races, he covered an Australian record 190 mares during the recent stud season. Now he's slaying them in the sale ring with two colts selling for $120,000 and $90,000 at the second session of the of the 2002 Conrad Jupiters Magic Millions Yearling Sale on the Gold Coast this afternoon.
For the delighted vendors, the return of around 20 times the service fee of the grey son of Danehill is a reward for their early support. Standing at Neville and Kaylene Stewart's Oaklands Stud, on Queensland's Darling Downs, Lion Hunter has been demanding the bargain basement fee of $5000.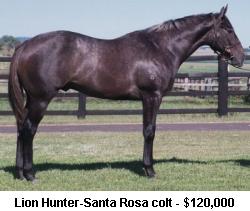 According to Neville Stewart, "we will be reviewing the service fee in the next month or two. The management committee for the stallion will have to make the decision". Its a fair bet that Lion Hunter's fee will increase as his sale average at the 2001 Magic Millions was $49,000 and will be substantially higher this year.
Enquiries for the stallion have been very strong with him covering 190 mares in the season just completed. Asked to comment on this, Stewart said "he's very virile and extremely fertile. He's much like his sire Danehill in that respect - happy to cover three times a day and with more than 90% fertility. We believe that 190 mares is a record for one stallion in Australia".
Oaklands Stud has been operating for 22 years and as Stewart said "Lion Hunter is the best freshman sire we've ever had". Asked about his previous best stallion, Stewart mentioned Yeats, the sire of Our Poetic Prince. Sadly Yeats died a week ago, but Lion Hunter looks set to assume the role as the leading stallion at Oaklands.
Oaklands acquired Lion Hunter via a private sale organised by Magic Millions General Manager, David Chester. The Stewarts and a group of private investors purchased the horse after he had finished racing.