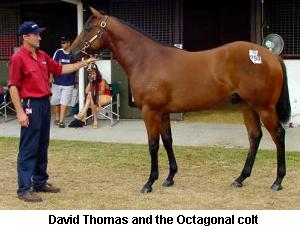 A second high priced lot was sold to Dubai in the Friday afternoon session of the Gold Coast Magic Millions Sale this afternoon when a Highgrove Stud sold their Octagonal - Simoon colt for $525,000.
Tim Boland, acting on behalf of Sheikh Mohammed bin Khalifa al Maktoum, purchased the colt, after a spirited bidding duel.
Boland placed his winning bid in the presence of the Shiekh's racing manager Mohammed Khaleel Ahmed.
The Octagonal purchase came only a couple of hours after the same combination had gone to $625,000 to acquire a colt by Grand Lodge from the former glamour mare and promising producer Pontal Lass.
The presence of Boland and Mohammed Khaleel Ahmed at the sale was a direct result of an approach to Boland by Magic Millions Marketing Manager Annie McDonald.
"I submitted a proposal to the group and had to convince them that the quality of the yearlings was up to their high standards. The Racing Manager has come to Australia inspected the horses available and as a result they've now purchased four of them, including two of the highest priced lots of the sale," McDonald said.
Asked if she thought they would purchase any more McDonald said that she "wouldn't be surprised if they did."
Bidding for the Octagonal colt began at $200,000 and rose in $25,000 amounts before the final bid.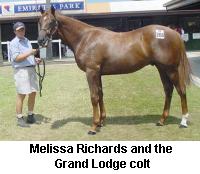 The colt is from the winning Palace Music mare Simoon, a half sister to Snippets, Quick Score, Asawir, True Blonde and Singles Bar.
According to Highgrove Stud manager, David Thomas, the colt was always popular with potential buyers. "We would have had him out 200 times" he said. "Some buyers inspected the horse up to 6 times".
Asked about the horse's brand of 1 over 0, Thomas explained that it was not because the colt was always the top colt on the stud, but because he was the first one born in the 2000 stud season. "He was literally born at 1 minute past midnight on August 1st" said Thomas, which would have made him the oldest yearling at the Magic Millions sale.
From the female family of inaugural Magic Millions race winner Snippets, the Octagonal colt's pedigree is chock full of black type. His dam, Simoon is a winner by Palace Music, who has a late maturing three year old racing in Perth and an as yet unraced two year old in Sydney. The dam has a yearling by Woodman and is in foal this season to boom sire Strategic.
Highgrove is a relatively new stud based on Queensland's Darling Downs. Thomas took up duties as stud manager 4 years ago when the stud commenced operations, having previously been a senior staff member at Woodlands Stud for several years. Owned by principal Ron Gilbert, Highgrove has 15 high class mares who are regularly sent to the Hunter Valley to go to stud.