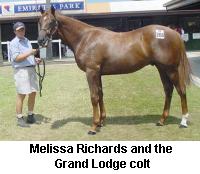 The power of Dubai came to the fore during the second session of the Gold Coast Magic Millions Sale this afternoon when a new sales topping price was reached.

A chestnut colt out of the Flight Stakes winner Pontal Lass, who's already produced the Wakeful Stakes winner Quays, was knocked down for $625,000 after spirited bidding from around the auditorium.

Tim Boland, acting on behalf of Sheikh Mohammed bin Khalifa al Maktoum, snapped up the colt, which was catalogued as lot number 208.

The early opwening bid of $100,000 was quickly surpassed when $200,000 was immediately offered. Bidding then progressed in $25,000 amounts before concluding with the Dubai bid at $625,000.

Pontal Lass won three races, the Flight Stakes (G1), Magic Night Stakes (G2) and the Tea Rose Stakes (G2), and she is a half sister to the American and European stakes winner River Majesty.
To date Pontal Lass has been represented by two runners including the the recent Wakeful Stakes winner Quays.
Offered by Newhaven Park Stud of Boorowa in New South Wales, the horse was handled by Melissa Richards who was "delighted" with the price for the yearling she affectionately nicknamed Ponty.
The yearling is expected to remain and race in Australia and no decision has been made as to who will trainer the colt.
The $625,000 sale came after the earlier sale of a Danehill colt for $300,000. Offered by Cambridge Stud the colt was picked up by the Bruce McLachlan led Thornhill Park.