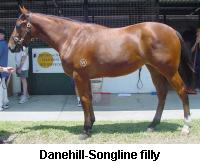 The strong start to the Gold Coast Yearling Sale yesterday has continued today after a solid second session.

Magic Millions Director John Singleton was able to top the session with his Danehill filly (ex Strawberry Girl) which was knocked down for $650,000.

The filly was sold to David Lamond.

The day's expected topper, a half sister to champion mare Sunline, failed to sell after falling short of its reserve.

A total of 180 yearlings were sold today for a gross total of $15,794,000, at an average price of $87,744.

The session's average was down on the corresponding period last year, however that was mainly due to the 2001 sale of the $1 million Sunday Silence filly.

One pleasing aspect to today's session was the increase in the clearance rate, which rose from 75% yesterday to 86%.

Over the first two sessions some 282 yearlings have sold for a gross of $24,504,000, an average of $86,894.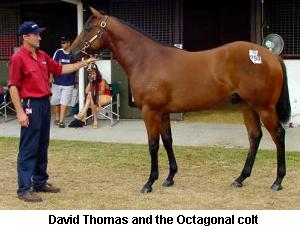 During today's session two high priced lots - a $625,000 Grand Lodge colt and a $525,000 Octagonal colt - were snapped up by Tim Boland acting as agent for Dubai based Sheikh Mohammed bin Khalifa al Maktoum. Boland also picked two other colts, both by colonial sires Snippets and Rory's Jester for $150,000 and $130,000 respectively during the first session.
The first of the two Sunday Silence fillies was sold to international trainer Graeme Rogerson for $420,000.
After buying four yearlings yesterday, Auckland based bloodstock expert Rob McAnulty was again in the thick of the action. McAnulty has now purchased eight youngsters for a total of $587,500.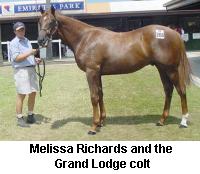 Another New Zealander Paul Moroney, the brother of leading trans Tasman trainer Mike, has forked out $662,500 to date for six yougsters - five fillies and one colt.
Mark Pilkington is currently the leading individual purchaser with eleven yearlings which total $1,365,000.
Graeme Rogerson has also been busy. His ten buys so far have totalled $1,242,000.
The Denise Martin led Star Thoroughbreds have now picked up eight for a total of $380,000.
Local bloodstock agent John Foote has purchased six horses for $757,500, most are likely to join the David Hall stable for his millionaire owner Tony Santic.