After scoring a quinella in the Magic Millions with Excellerator and Miss Bussell in 2001 and winning the race with Assertive Lad in 2000, Gai is chasing a hat-trick in the glamour two-year-old race this year and she has plenty of depth with which to do it.

Among her top chances is classy Snippets colt Snowland, a $90,000 purchase for Eduardo Cojuangco's Gooree Stud, who won the Listed Canonbury Stakes second-up after placing in the Breeders' Plate.

"He's exceptionally fast and professional and he should have won the Breeders," she says.

Gold Coast businesswoman Yvonne Smith, who has enjoyed racing Assertive Lad among others, has her hopes pinned on Obsession, purchased by Gai for $150,000.

"He was second in the Breeders' Plate and he is a huge horse who can only go forward from here," Gai says of the Last Tycoon gelding.

Smith also has exciting Marscay colt Power Surge, a $100,000 purchase who reminds the trainer of Excellerator.

Others include Marscay gelding Marzurro, Unbridled's Song filly Blazing Bridles, Spinning World gelding Sabre Knight, Rory's Boy, Fiery Venture, Thunder On and Danehill filly Chuckle.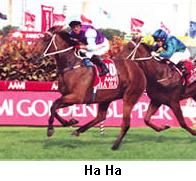 Gai will also race a Danehill filly that will carry the same colors as Ha Ha for John Singleton's Strawberry Hill Stud Syndicate.
"I gave (wife) Julie's dad Gordon Martin a half share for his 70th birthday," says Singleton, "I gave Bob Hawke 25 per cent of Belle Du Jour and she won the Slipper so I thought it might be lucky!
"We put 10 names down on the registration form and the last one turned out to be the one that got the green light."
The filly, from Cult Figure, is called Gai.
Gai's relentless work ethic – she rises at 3.15am daily – extends to yearling sales: long after everyone else has retired to the shade of a marquee for a cool drink, Gai will be on the march, scribbling furiously in her catalogue as she inspects every yearling.
Leading buyer at Magic Millions for the past seven years, Gai outlaid $2,985,000 on 32 youngsters for an average $90,469 in 2000. In 2001 a total of 35 yearlings worth $4,022,500 were knocked down to Gai, at an average of $114,929.
Tommy Smith pioneered buying 'on spec' and Gai hasn't been afraid to continue the tradition, although in recent years her numbers are substantially bolstered with yearlings purchased by others and sent to her to train.
"The lovely thing about Magic Millions horses is they come to hand so quickly; they probably show their breeders this precociousness. They are affordable, and I spec so many horses. I have not really had the luxury, with the exception of (owner) Tony Huang, until the last 18 months, of going and buying a million dollar horse," she says.
"When I am going to spec 60 horses a year I have to be mindful – can I carry it?"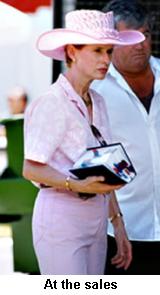 "I think in many ways Magic Millions is abreast of the Easter sale but it has got a different product, very much athletes. You go in there prepared for a slightly weaker pedigree but you are buying an athlete, like Danglissa and Assertive Lad – those horses, they made their pedigree. Magic Millions grows in strength every year."
While many buyers go to a sale with a catalogue shortlist, Gai reserves her judgment until she's seen them all.
"We look at 1500 horses a year, with George Smith, Steve Brem and John Walker," she explains.
"And all those horses in the sales, we've seen them before, we go to the paddock, and we already have in our mind's eye horses that might be good value, beautiful pedigrees, lovely types, but for some reason or other they might just fall short. Everyone loves particular stallions and you think they are going to be too expensive but often they are not."
Gai often leads the way with the annual barrage of progeny by freshman sires; recent purchases have included youngsters by Helissio and Timber Country as well as a liberal sprinkling of yearlings by her perennial and proven favourites such as Marscay, Royal Academy and Last Tycoon.
Asked where she draws the line, Gai says she is not prepared to forgive a horse that she considers has suspect knees or a potential suspensory problem.
"I loathe bad-temperamented horses, I don't mind if they are skittish or bullish but I want a horse that comes out and shows me he is an athlete," she insists.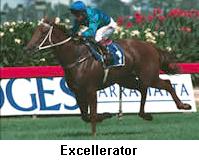 "Excellerator didn't walk out, he fell out in front of me. But he landed and righted himself immediately and I thought, you are a real athlete, and I made up my mind I would buy him," she says of the $50,000 purchase whose current earnings are $1,380,185.
"If Johnny Walker says 'hard to train' I won't buy. We may examine the horse several times and call in a second vet, but that is the bottom line."
While many of Gai's purchases are in the mid-market range, she's bid confidently for horses such as Magic Of Sydney and Nothin' Leica Dane and in 2001 landed a sensational coup when the star Sunday Silence – Joie Denise filly was knocked down to her on behalf of John Singleton.
"She was a standout. She had everything. She could have been in any sale … Europe, Japan or America. Her grandmother I knew intimately because dad trained her, Denise's Joy, and she was so like Denise's Joy. I can't see why she won't be a two-year-old. She has got a definite precociousness about her."
John Singleton believes Gai is among the nation's business leaders: "She gets 10 out of 10 for everything," he says enthusiastically, "if you look upon her as a supplier of a service it is the best run and most productive. She is the leader of all suppliers I have ever dealt with."
"She is in her element at the track but she is also in her element when she inspects yearlings. She runs a very well-oiled machine. They all compare notes and you get a typed up summary written with honesty and flair in her own flamboyant, colourful style."
"She would have been a wonderful writer. Her track flashes are great. And don't forget before she goes to the track she organises lunch for the kids," he says.
"In the owners' room after a win, she'll be the one taking the glad-wrap off the sandwiches and pouring the champagne – no wonder she goes to sleep at 8pm!"
Can Gai continue her current momentum?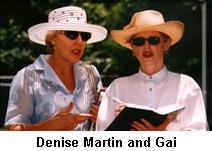 "There is no reason why she can't win more races than anyone else for a long time," Singleton responds confidently. "She is TJ's daughter and success breeds success."
But that very fact initially went against Gai: "A lot of people, and I stress, myself included, thought there could only be one TJ and we sat back and waited. We said, sure she is going well with the stayers. I had horses with TJ for 20 years. I thought Gai wasn't having success with the two-year-olds. But then she got better yearlings."
Gai started out with four horses, won her first race with Gifted Poet at Hawkesbury, and recalls: "I didn't really have any expectations. I just wanted to do well, that's all. I was lucky I had a hugely successful father. I didn't want for anything and I had a lifetime in the racing industry, being born and bred into it. But I didn't have any expectations."
"The most important thing when I started was winning the races. I just wanted to win the races," says the trainer who has since amassed 191 black type trophies and 39 Group One wins with 22 individual horses, including six Metropolitans, five Doncasters, two Magic Millions and a Golden Slipper.
Gai acknowledged a year ago that in the wake of her father's death, she'd reassessed her strategy with her two-year-olds.
"I've changed my training methods. I've just thought about things that Dad said; he always said you have got to keep young horses fresh and treat them like young horses," says Gai.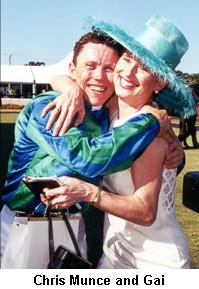 "Dad just literally dominated two-year-olds; there was no better trainer in Australia and he was always saying 'you are not training them right, you are doing too much with them'."
"He was super-critical and it wasn't until he passed away I thought about doing it his way. You're young, you think you know best and I was going well enough with winners everywhere else, milers and middle distance horses," she says.
The turnaround, of course, resulted in a Golden Slipper trifecta.
Gai won NSW Telstra Businesswoman of the Year in 2000, a gong she was genuinely surprised to receive. "It was such an honour to be considered among a group of very accomplished women from a range of fields, it really meant a lot," she says.
Now, the sky is the limit for the seemingly unstoppable horsewoman, but Singleton says her success has been the result of hard work rather than luck and circumstance.
"Gai has earned it," says Singleton.
"She's really had to prove herself. And she is not only an amazing trainer, she is an amazing businesswoman."