Rob McAnulty is a popular sight in any thoroughbred breeder 's barn. Here is a profile of one of the sharpest brains in Australian and South East Asian racing.
When an individual buyer can claim the winners of 22 Group One races and more than 100 stakes wins in total from stock bought out of Australasian yearling auctions, it's a reasonable assumption that person knows a little of what they are talking about.
When Auckland-based bloodstock buyer Rob McAnulty, the owner of this impressive record, freely states that the Gold Coast Magic Millions sale in January is the yearling sale he enjoys most of all, it is worth finding out just why.
Rob McAnulty's name is as well known through Australasian and Asian thoroughbred circles as are the names of some of the horses he has been instrumental in taking from the yearling sales onto the track. Names like St Covet, Mouawad, Mr Vitality (HK), Great Command, Tristalove, All Thrills (HK), Crystal Palace, Danske, Our Tristalight and San Luis have made the sight of McAnulty walking into your barn just about the most welcome one any vendor would want.
Even while he describes himself these days as "his own best client", McAnulty is making yearling vendors at the Magic Millions sale on the Gold Coast happier every year.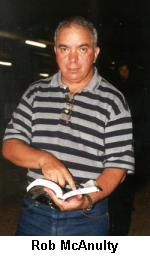 "It's my happy hunting ground", McAnulty said.
"The sale is on at the right time, in the right area and at the right location. The presentation of yearlings is excellent with some very professional studs already having half-done the selection process for buyers. I am able to combine my business with a family holiday after Christmas and it is a fun place to be."
"On top of all that, I estimate that I have something around 90 per cent winners from the yearlings I have purchased there over the years, so it's little wonder I keep coming back for more."
For more than a dozen years Rob McAnulty has been on the front bench of yearling buyers in Australia and New Zealand in terms of purchasing power and results generated. Over that dozen years his business structure has changed considerably but his taste for top-class yearlings has just become stronger.
"When I first started buying in bigger numbers from the sales I was operating an office in Hong Kong as well as one in New Zealand," he said.
"I was able to determine Hong Kong buyers' needs and demonstrate that I was prepared to make a genuine commitment to meeting those. I believed then, and believe even more today, that the yearling sale ring is the best place to buy horses – and have said so to clients who were willing to wait with their permits or who wanted to race in Australia. Before long I was in action in virtually every sale, buying 25-30 yearlings over a summer alone."
"We bought some lovely horses for Hong Kong like two-time Horse of the Year Mr. Vitality and the multi-million dollar winner All Thrills Too."
"At the same time, clients from Hong Kong raced the champion fillies Tristalove and (Our) Tristalight in Australia and New Zealand under my management after I had bought both in the yearling ring for $250,000. Both were Group One winners. Even though they no longer own them, it is wonderful to see both have now produced Group One winners themselves."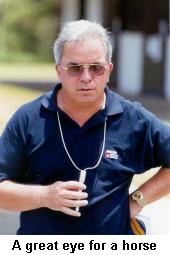 Pedigree followers will be familiar with the Sir Tristram mares, who reside these days at Sir Patrick Hogan's Cambridge Stud. They will note the powerful effect Danehill has had on both as sire of Our Tristalight's Group One winning son Danske and Tristalove's high class 3YO son Viking Ruler.
It was an influence McAnulty saw coming. He was was able to capitalise on it by purchasing, syndicating and racing Danske through to Group One success in the New Zealand 2000 Guineas before selling him to stand at Windsor Park Stud.
This complete package concept -managing from the yearling sale ring to the stallion barn - was an approach Rob McAnulty had successfully undertaken twice previously, with Magic Millions graduate St Covet and with Octagonal's younger (but sadly less fertile) brother Mouawad.
The purchase of St Covet from the Magic Millions sale on the Gold Coast in 1993 was one of Rob McAnulty's most successful yearling buys.
The son of Covetous from a Sound Reason mare cost McAnulty and three Hong Kong clients just $18,000. Racing out of the stable of David Hayes in South Australia, he galloped his way to the top of the Australian 2YO Free Handicap in his first season on the track.
St Covet's six wins at two included the Group One AJC Sires Produce Stakes and the Group Two Canberra Black Opal Stakes. His seconds included the Group One Golden Slipper Stakes and one in the rich Gold Coast Magic Millions incentive race linked to the yearling sales.
"St Covet was a fantastic racehorse," McAnulty said.
"He showed his true ability when he thrashed the horse which beat him in the Slipper, Danzero, by over three lengths in the Sires Produce at Randwick, then at three went on to win the Caulfield Guineas, one of the toughest classics in Australia to win."
"When Queensland stud owner Jon Hasler expressed an interest in him, we sold a half-share in St Covet to Glenlogan Park for A$600,000, meaning the original partners ended up with close to A$2 million from a A$18,000 yearling buy."
Mention of St Covet's long neck second behind Brave Warrior in the Magic Millions Classic leads naturally to discussion of the rich bonus incentives attached to the Magic Millions concept and, surprisingly, McAnulty is relatively ambivalent towards them.
"There are two angles you can take at the Magic Millions sale," McAnulty said.
"You can try to find a horse for the race the following year and while the race itself is incredibly tough, the types are there to win it with. However, you can end up paying a premium on these particular yearlings because every other major buyer is after them too."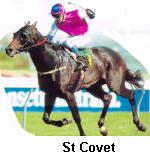 "Over all the years I have bought from the Magic Millions I have only had two runners in the race – St Covet and St Rory who finished fourth in his year."
"The other approach – and the one I generally employ now – is to stop thinking about one race 12 months later and to concentrate instead on buying an athletic, well-made racehorse. By doing this you actually put yourself in a position to buy at genuine value levels."
"Virtually every horse at the Gold Coast sales complex has been pre-selected by the studs and the sales company so we are left with a catalogue of quality types, even if some of the pedigrees may not match the true blue-bloods on offer at Karaka or Sydney in Easter."
"Buying a great type is a logical way to go at the Gold Coast but so too is the idea of buying a horse you are confident will develop into a good type. You can often buy these horses way below levels you would have to pay at other major sales, so the ability to determine which yearlings are perhaps at the wrong sale is another way to enhance your buying."
"Time is a horse's best friend and if you are prepared to give yearlings bought from the Gold Coast that little bit of time, you can really boost a horse's racing career."
Continuing this theme, Rob McAnulty expands further on his buying decisions.
"If you go to the sales looking for a classic horse, you can often end up with a Cups runner. Similarly, if you go looking for a Cups horse, you can end up taking home a hurdler. Everything takes longer with horses than most people think, so I find that by going to a sale with a strong emphasis on juveniles, you can often find yourself in the cheapest place to buy a classic horse."
"By shifting my thinking a year along, by saying that the sale is actually bigger than the race, I believe I can find, and have done so, some incredible value at the Gold Coast Magic Millions."
McAnulty cites the Queensland Oaks winner Crystal Palace, a A$230,000 purchase, as a prime example of this point.
"Here was this filly, a full sister to a 10- time Group winner of over A$3 million in Naturalism, who was clearly in the wrong sale."
"She should have been at Karaka or at Easter, so I was delighted to pay just $A230,000 for her," he recalls, "and even more delighted when she won the Eulogy Stakes in New Zealand at three then went on to win the Group One Queensland Oaks in the autumn. Her first filly foal by Danehill sold for A$300,000. Today she looks like a positive bargain."
"Another in the same mould was the outstanding Sunday Silence filly I bought from the Magic Millions in 2001. She was beautiful and worth every cent of the A$700,000 she cost me. She won't be asked to do too much at two but I believe she will be a star at three."
Over the last couple of years, Rob McAnulty has stepped back from the big client base he had in Hong Kong, preferring to operate on behalf of a few selected friends and of his own accord.
"From the start I have operated with my own bank. If I saw a horse, I bought and paid for it and then sold it on if a client wanted it and this process set me apart from most bloodstock agents."
"Today I am my own biggest client but I have always been a trader. We sold Great Command to Hong Kong after he had won the New Zealand Derby. He would have been a wonderful horse up there but sadly died from anaphylactic shock before racing there."
"My buyers also appreciate the quality I have been able to buy at the Magic Millions and I have found yearlings bought there are the easiest to trade on at a profit as breeze-up juveniles. We find the process of bringing them back to New Zealand and breaking them in early, even before Easter, really settles them down and they thrive ahead of either a 2YO career or on-sale."
"We then decide whether to sell them on or race them ourselves which in New Zealand these days is really an exercise in being able to see and enjoy them rather than make the sort of money available on the tacks in Australia or Asia."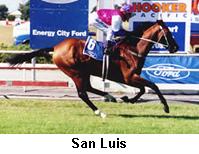 However McAnulty's latest star was one which may have slipped through the buyers' net when he was offered for sale at last November's Ready to Run sale in New Zealand.
Purchased for just A$42,500 at the 2000 Gold Coast Magic Millions, this son of Flying Spur from Star Style Girl was bought back by McAnulty at the Ready to Run sale for NZ$300,000, syndicated among friends and then as San Luis he collected wins in the Group One
Manawatu Sires Produce Stakes and the Group Three Lion Red Classic and was runner up in the Group One Ellerslie Sires' Produce on his way to being named Ford Champion Two Year Old for the 2000-01 season.
While Rob McAnulty is always willing to chat about his impressive record as a buyer, he saves special praise for the team behind the Magic Millions sale, stating they make it easy to attend, easy to buy and easy to enjoy.
"The sale has had a chequered past but with its current owners and management, they are doing everything well. The marketing material is exciting, not dull and boring because you don't go there to get bored. The welcome they give you is as warm as the weather and the excitement levels are high with the high profile racing they and the Queensland government support the sale with," McAnulty observes.
"With such a complete package, you can understand why the likes of New Zealand Bloodstock are perhaps a tad miffed with no opportunity to host a high-profile meet around their sales."
"The atmosphere, the product on offer and the results that just keep coming will see me in action at the Gold Coast Magic Millions for a whole lot of years yet."