Why Jumps Racing?
On Easter Monday 1987, I was 19 years old. As an onlooker at the unique Oakbank course, I witnessed two dynamic wins. The Harry D Young Hurdle (now known as the Yalumba) was dominated in cavalier fashion by a 9 year old Zamazaan gelding called Doctor Sam. Later that day, the Great Eastern Steeplechase, over the gruelling 4950m journey, was won by a fine young steeplechaser, Spring Fortune. These KT Myers prepared jumpers won by a combined 25 lengths. After that day I was no longer an onlooker. I was a jumps racing addict.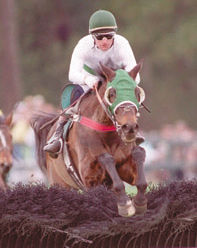 After observing & punting almost solely on jumps racing for ten years, I commenced writing pre-race reports on all Supertab covered jumping events. These assessments were provided on a free trial basis to subscribers by facsimile or e-mail on the Internet. The assessments were received well as they proved to be accurate from a punting angle and there was an absence of specialised jumps racing information available in the marketplace. Most major thoroughbred racing ratings & information services still write off jumping races as "unpredictable" or "poor betting propositions". How wrong they are!
Due to the assessments being well received, over the last 2 years, I have supplied information, reports and selections to trainers and owners as well as punters. I have written articles for Practical Punting Monthly (PPM) magazine as well as the Australian Jumps Racing Association Journal (AJRA). You may like to visit my web pages that offer a range of jumps articles, information and selections.
The address is: http://www.cyberhorse.net.au/jumpguru
I view my work with the jumps racing assessments as a springboard into pursuing more jumps focussed written work with the media & race clubs in the sponsorship area. Please contact me if I can assist you with an independent opinion on a horse's form or prepare an article promoting your race club's upcoming jumping event(s) for inclusion on my web site on the Internet.
My e-mail address is: jumpguru@picknowl.com.au