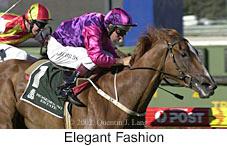 Hong Kong based racehorse enthusiast Dr Gene Tsoi has made a successful hit-run trip to Australia to see his boom filly Elegant Fashion continue her dramatic rise up the racing ranks when she scored a grinding win over the kiwi Damaschino is this afternoon's $508,000 Rosemout Estate Oaks at Moonee Valley.

The filly, a daughter of the former champion three-year-old Danewin, won her third consecutive race in what has been a remarkable campaign in Melbourne.

"This is a super filly," a beaming trainer Tony McEvoy reiterated again at the Valley after another feature win.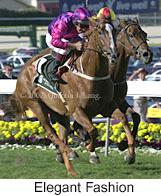 "We keep putting her up a notch and she seems to take the next step in her stride. She is a serious top class galloper."
McEvoy then wrapped the filly saying she was "the best filly I've had anything to do with in my time at Lindsay Park." A huge wrap coming from a man who watched the likes of Special, La Baraka, Miss Margaret, Leica Smile, Catnipped, Lolita Star, Lan Kwai Fong, Nina Haraka, Lady of the Pines and Market Price gallop to group glory.
Tsoi, who's been a client at Lindsay Park for "over ten years" was delighted his exciting filly was able to win this afternoon.
"It was a great win. Greg (winning jockey Greg Childs) again rode her well and Tony and everyone at Lindsay Park has done a great job with her," Dr Tsoi said.
"I remember (the late) Peter Hayes about a year ago telling me the filly was going to be good and he is a great judge."
Tsoi, who has raced a number of top gallopers with Lindsay Park including the former Group One star Seascay, was seeing the filly race for the first time during an incredible rise through the ranks.
"People must remember this is her first racing preparation and she has already achieved so much," McEvoy added.
A decision on whether Elegant Fashion heads to Sydney or Adelaide will be answered in "the next few days."
"Sydney is obviously a great lure with so much prizemoney on offer," McEvoy said. "But there is also the option for the Group One Oaks in Adelaide as well."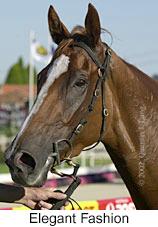 "If we were to go to Adelaide she won't have to worry about adjusting too much. She knows the surroundings at home (at Lindsay Park's Angaston property) and won't be required to race in the other direction," he added.
Many feel Tsoi is favouring a start in Sydney, while McEvoy appears to be swaying in the direction of Adelaide. Whoever "wins out" and wherever the filly heads she is sure to command plenty of attention.
Meanwhile, Moon Dragon, who was again beaten out of a place in today's race, will press on for Group One company.
"She'll have a few weeks off and then we'll send her to Adelaide," Swettenham's Adam Sangster said. "She is a quality filly, we know that, and I'm sure she has lost some confidence over the last few starts."
PICS – Quentin Lang.